Crock Pot Recipes Bacon and Corn Chowder
Great winter comfort soup!
Chowder is a seafood or vegetable stew, often served with milk or cream and mostly eaten with saltine crackers. Chowder is usually thickened with broken up crackers, but some varieties are traditionally thickened with crushed ship biscuit. New England clam chowder is typically made with chopped clams and diced potatoes, in a mixed cream and milk base, often with a small amount of butter. Other common chowders include Manhattan clam chowder, which substitutes tomatoes for the milk and cream and typically omits potatoes; corn chowder, which uses corn instead of clams; a wide variety of fish chowders; and potato chowder, which is often made with cheese.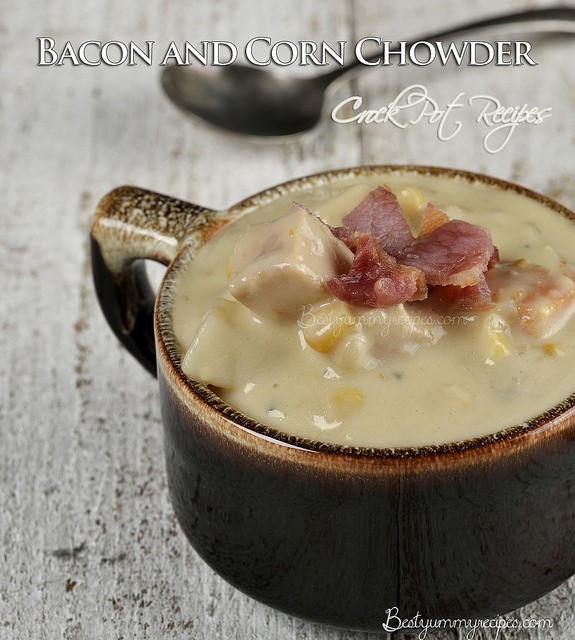 Crock Pot Recipes Bacon and Corn Chowder
Recipe slightly modified from bettycrocker
Prep Time 20 min
Total Time 4 hr 50 min
Servings 4
Ingredients:
1/2 lb bacon, cut into 1-inch pieces
2 cups cubed peeled potatoes
2 cups frozen corn (from 12-oz bag), thawed
1 medium onion, chopped (1/2 cup)
1/2 cup chopped carrots
1/2 cup chopped red bell pepper
1 can (18 oz) Progresso™ Recipe Starters™ creamy roasted garlic cooking sauce
(if you can not find this in your country substitute for use cream of mushroom soup)
1 can (14.75 oz) cream style sweet corn
1 tablespoon sugar
1 cup milk
Directions:
Spray 6- to 7-quart slow cooker with cooking spray. In 10-inch skillet, cook bacon until crisp; drain on paper towels. Discard drippings.
Now cook the potatoes with a little oil (not much) just dorelas not want fully cooked
Place bacon and potatoes in slow cooker. Add remaining ingredients except milk; stir to combine.
Cover; cook on Low heat setting 4 hours or until potatoes are tender. Stir in milk. Cover; cook about 30 minutes longer or until hot. Season to taste with salt and pepper.
Tips
You can use cream of mushroom soup instead of the cooking sauce
Garnish individual bowls of chowder with additional crumbled cooked bacon, if desired.
If corn is in season, use fresh corn cut from the cob instead of frozen.