One of the classic flavour pairings with fresh, ripe raspberries is of course white chocolate. And one of my favourite desserts, White Chocolate Raspberry Tart, is an exquisite expression of this delicious combination.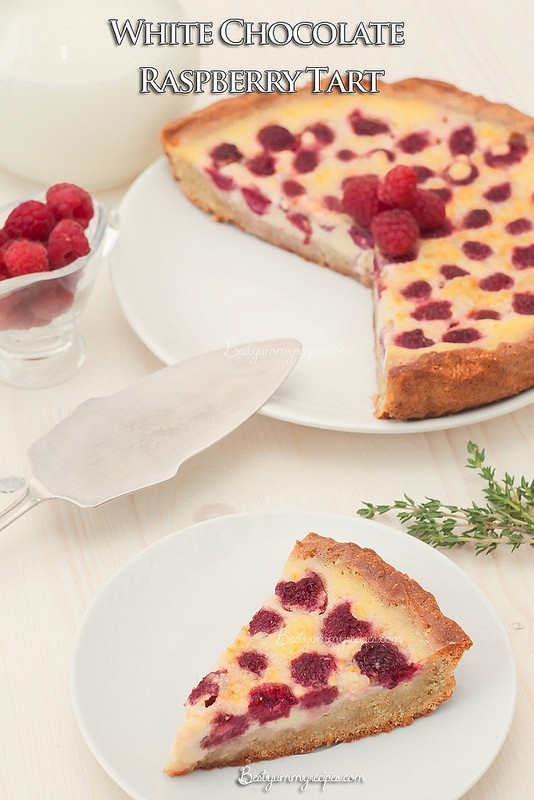 White Chocolate Raspberry Tart
Ingredients:
Shortbread Crust
2 1/4 cups flour
1 pinch of salt
1/2 cup sugar
3/4 cup unsalted butter, chilled and cubed
4 egg yolks
1 tablespoon ice water
1 tablespoon lemon juice
Filling:
3/4 cup heavy cream
4 ounces white chocolate, chopped
1 egg, lightly beaten
1 Tbsp raspberry liqueur or brandy (optional)
1 1/2 cups fresh raspberries
1 handful White chocolate shavings
Directions:
Shortbread Crust
Place the flour, salt and sugar in a food processor and pulse for a few seconds.
Add the butter and pulse until the mixture resembles coarse cornmeal.
Add the egg yolks, water and lemon juice.
Pulse until the mixture begins to form a ball.
Remove the dough from the food processor. Shape into a disk.
Cover with plastic wrap and refrigerate for 30 minutes.
Put the dough into a 9-inch (23 cm) pie pan. Refrigerate for another 30 minutes.
With the rack in the lowest position, preheat the oven to 375°F
Line the chilled crust with aluminum foil, scattering a few dry beans or pie weights on top to hold the foil in place.
Bake for 10 minutes. Remove the weights and foil and bake for 5 minutes more. Let cool.
Filling:
Preheat the oven to 325°F
In a saucepan over low heat, gently melt the chocolate in the heavy cream.
Lightly beat the egg using an electric mixer on lowest speed.
While beating, slowly add the chocolate mixture and liqueur taking care not to incorporate air into the mixture. Beat for 15 seconds more.
Arrange 1 cup raspberries on the pie crust with their pointed ends facing up.
Gently pour the filling over the berries without covering them completely.
Bake until the centre is firm, 30 to 35 minutes.
Let stand at room temperature for 3 to 4 hours.
Just before serving, garnish with white chocolate shavings and the remaining raspberries. Best if served the same day.