These quick and easy bread sticks are a wonderful way to get the kids helping in the kitchen. If they can do it so can you. Just a warning… they are also addicting. I can never eat just one.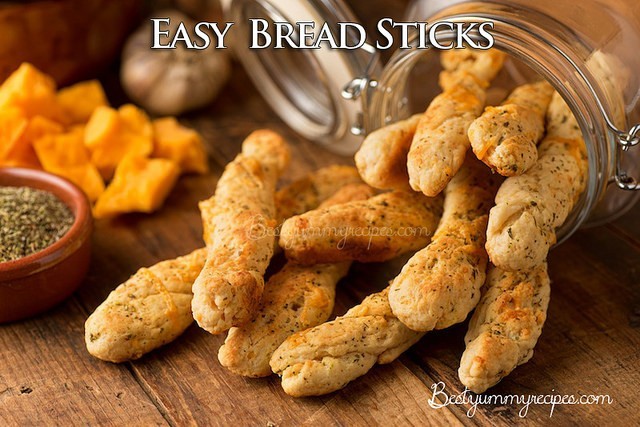 Easy Bread Sticks
Prep Time 20 Minutes
Cook Time 15 Minutes
Difficulty Easy
Servings 32
Ingredients:
1-½ cup Warm Water
1 Tablespoon Sugar
1 teaspoon Salt
1 Tablespoon Dry Active Yeast
3-½ cups Flour
½ cups Melted Butter
1 teasponn garlic powder
1 cup Grated Cheddar Cheese or Parmesan Cheese (Or You can use any type of cheese you prefer.)
Italian spices Or Seasoning Of Choice
Directions:
Mix together warm water, sugar, salt and yeast. Allow yeast to activate (about 10 minutes). Add flour and stir in with a fork until dough holds together. Turn out onto floured board.
Knead lightly into a ball. Divide into 32 equal portions. On floured board, roll out into bread sticks.
Mix the melted butter with garlic powder
Dip into melted butter/garlic and then into Cheddar or Parmesan cheese. Place onto greased cookie sheet (16 per bakers half sheet.)
Sprinkle with Italian spices Or Seasoning Of Choice
Preheat oven to 400 F degrees. This gives the bread sticks about 10 minutes to begin to rise. Cook at 400 F degrees for 15 minutes.
May be made in the morning and kept in the refrigerator unbaked. Remove from the refrigerator about 30 – 45 minutes (depending on how warm your house is) before baking.