Old Fashioned Custard Pie is a recipe that you need to have in your pie recipe collection. It's a classic favorite.
Custard pie is a super easy pie recipe to make. There are only a handful of simple ingredients, and it's very easy to put together. There are a lot of people who enjoy a good, classic custard pie, and that's what this one is. Old Fashioned Custard Pie has been around a long time– and for good reason! It's a keeper.
History of the Old Fashioned Custard Pie
A custard pie is characterized as any type of uncooked custard filling combined with a pre-baked crust, and then baked together. The inclusion of a large number of eggs in a custard pie recipe means that it's a very rich pie. Buttermilk pie, pumpkin pie, chess pie and lemon pie are all considered to be different varieties of custard pie.
Ancient Romans were the first to discover how eggs work as a binding product in baking. So custard pies and tarts began to appear during the Middle Ages. And of course, they're very popular today!
How to make an Old Fashioned Custard Pie:
This recipe begins with the crust. You can use a store-bought single pie crust for this (I did), or you can make your own favorite homemade pie crust recipe. The pie crust is placed into the pan, edges crimped and then refrigerated until well-chilled. After chilling, the crust will be partially pre-baked. It's super helpful to have PIE WEIGHTS since you will need them for holding down the crust while baking. You can also used dried beans or uncooked rice if you don't want to invest in pie weights. I ordered four sets of pie weights this year for pie baking, and they have been so helpful. I use all four sets in one crust to keep it anchored down well while baking!
Meanwhile, you can get the ingredients for the custard filling ready. The filling is simply a combination of eggs, milk, sugar, nutmeg, cinnamon, vanilla and salt. That's it. Once those are whisked together, the filling is poured into the pre-baked crust, and then the custard and crust are baked together.
A good custard pie is fairly light and delicate, but it will be pretty firm in texture and will slice well. The texture is not creamy like a cream pie. Expect it to be more of a molded cream. The filling is held together tightly because of the eggs in the pie. The spices tend to float to the top.
This pie is delicious any time of year, but it's a great one to add to the holiday menu too.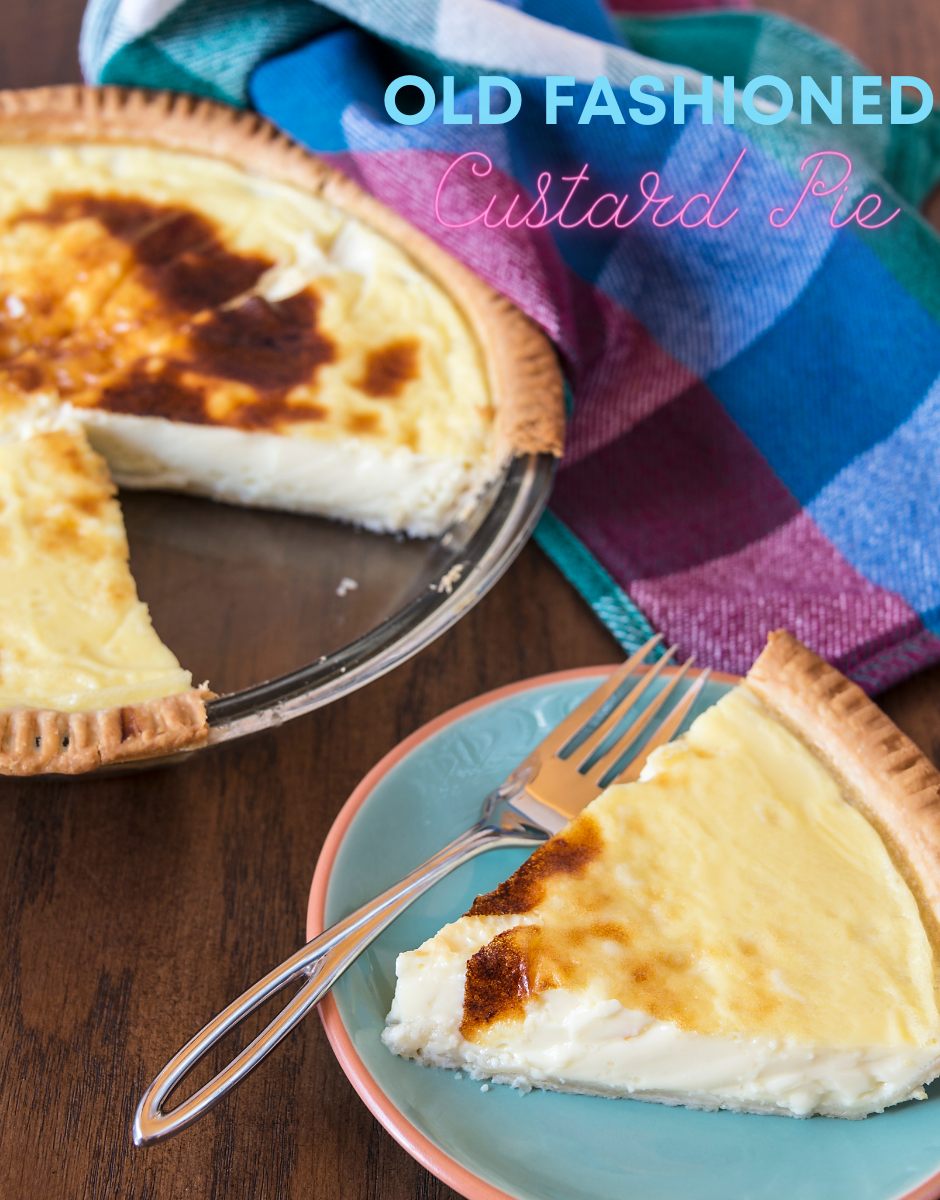 Ingredients
One unbaked single pie crust

4

large eggs

2½

cups

whole milk

1/2

cup

granulated white sugar

3/4

teaspoon

ground nutmeg

1/4

teaspoon

ground cinnamon

1½

teaspoons

vanilla extract

1/2

teaspoon

salt
Instructions
Unroll the crust into a 9-inch pie plate; crimp the edges. Refrigerate the crust-lined pie plate for 30 minutes.

Preheat the oven to 400 degrees F. and place a rack in the lower part of your oven. Line the pie crust with foil, and fill with pie weights dried beans or uncooked rice. Don't be skimpy about it-- you really want it to be weighed down. Bake until the edges of the crust are golden brown, 10 to 15 minutes. Remove the foil and weights, and bake until the bottom of the crust is golden brown too- 3 to 6 minutes longer. Remove from the oven, and set aside to cool.

In a large bowl, whisk the eggs. Then whisk in the milk, sugar, nutmeg, cinnamon, vanilla and salt. Whisk until well blended, and then pour into the pre-baked crust. Cover the edges with a pie shield (or with foil). Bake 25 to 30 minutes, or until a knife inserted into the center comes out clean. Cool at room temperature. Refrigerate until ready to serve. Keep leftovers stored in the refrigerator.
Video
Nutrition
Serving:
1
slice
|
Calories:
236
kcal