Last October I saw this cute little Godiva Liqueur Flight on Disney's cocktail menu. I loved the look of the shapely little glasses, and the bright strawberries sitting on top appealed to me. Plus there's the interactive element of infusing the strawberries with the liqueur which just looked like fun.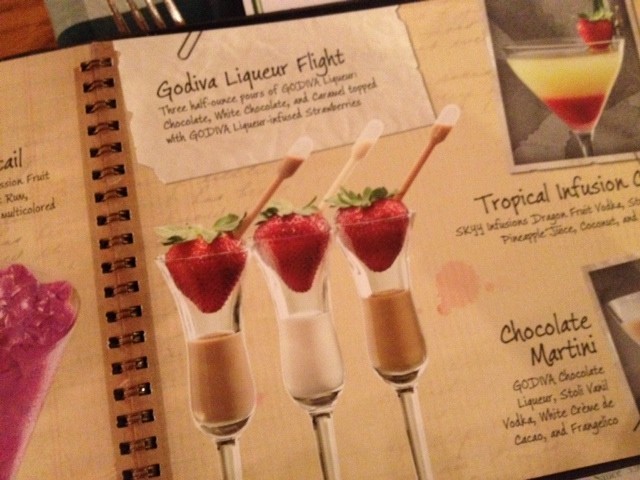 The flight consists of 3 different Godiva chocolate liqueurs( Chocolate, White chocolate and Caramel) garnished with three strawberries with an additional infusers for each strawberry. The over-all look of the flight interesting and instantly engages not only the drinker, but the people around them.
Recipe
Godiva Liqueur Flight –
3 half-ounce pours of GODIVA Liqueurs:
Chocolate, White chocolate and Caramel topped with GODIVA Liqueur-infused Strawberries
Pipettes Here
Note: You can use any brand of liquor, Godiva is just a suggestion, the idea is to inject the liquor with a pipette into a strawberry.
Another option may be Anthon Berg Chocolate Liqueurs with Original Spirits