When I turn to tacos for dinner, this normally would not even be on my radar. I am either a shredded chicken type, or a plain old cannot-even-really-be-considered-Mexican, ground beef and packet of taco seasoning type.
Yesterday I had a chuck roast in the fridge that needed to get cooked or frozen, and then I remembered the bottle of tequila I've had in my cupboard since I made some margaritas. From there came this Tequila Lime Shredded Beef Tacos recipe, just for you. I really, really, REALLY liked this one. A lot. This may be my new favorite taco meat, by FAR. I hope you try it soon and enjoy it just as much as we did! As an added bonus, it only takes about 10-15 minutes of active preparing, and some of that is even optional.
I always start my crock pot meals by searing whatever meat I am putting in. I think it adds a LOT to the flavor of the dish without having to add a ton of salt or other stuff to mask the fact that you didn't sear first. You don't *have* to do this step, but I highly, HIGHLY recommend it. I cannot vouch for the final results if you don't because I don't ever put unseared roasts in my crock pot, but if you are brave and want to risk it, feel free.
The key to searing meat is seasoning well first, preheating your pan, and DON'T TOUCH IT until the crust is formed on the side that is cooking. So get your oil heating in your pan and heat over almost high heat. Just shy of full blast is what I like to do. I heat the oil until it is JUST shy of smoking, and then carefully put in my seasoned roast. I wait until I start smelling it. That distinct and delicious aroma of meat cooking is hard to miss, and then I lift one TINY corner of the roast to peek under and make sure it is properly crusted. If it is, I flip and repeat on the other side.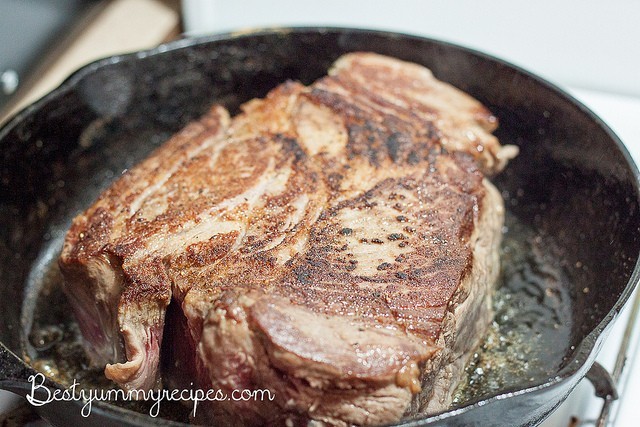 If you have been reading here for any length of time you will see that I have a pretty generic seasoning mixture that I use for almost all meats before I cook them. It consists of salt, pepper, garlic powder, onion powder, and Lawry's Seasoning Salt. I use this on JUST about everything shy of bacon and sausage, and then tailor additional spices according to what I'm making. For this roast that included a bit of chili powder and cumin.
After the roast is seared well, turn the heat down to medium, remove the roast and place it in your crock pot that's on high heat, and run back to the stove to make the roasting liquid. I deglazed the pan by tossing in a small can of green chilis, and also a can of roasted tomatoes, salsa style, that I picked up at Aldi last time I was there. It says on the can you can use it as salsa, and it worked perfectly in this. If you don't have an Aldi or can't find that particular product, feel free to use a can of fire roasted tomatoes and 1/2 cup of your favorite salsa. After that goes into the pan, stir well and add your tequila. Let this simmer for 2 minutes over medium heat, and then pour it on top of your roast in the crock pot. After 4 hours on high, or about 6-7 on low (depending on your specific crock pot and the cut of meat, of course) you will open it up to this.
Remove the roast to a pan carefully and shred with a couple of forks. Chuck roasts have quite a bit of fat left on them, and some connective tissue as well. Make sure you get that out of there as you want this to be pure beef.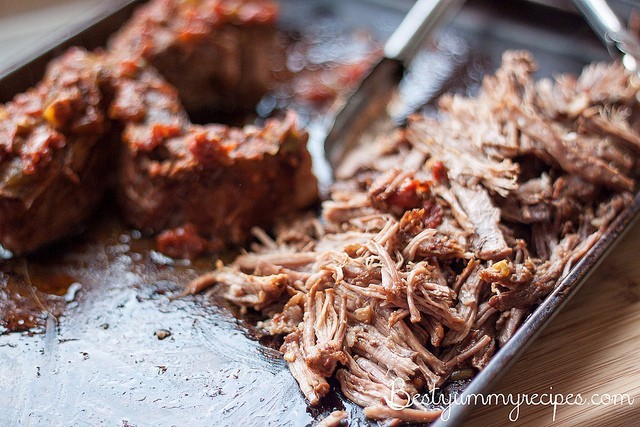 After it is shredded and separated, pour most of the liquid out of the crock pot, replace the meat, turn the crock pot down to warm, and add back in 1/2 – 3/4 cups of liquid. Place the rest of the liquid in the fridge (or freezer if you are in a hurry!) for 20-30 minutes. Once that time has passed, remove the liquid and scrape the fat off the top and discard. Replace as much of the liquid as you would like. I used about another 1/2 cup to moisten up the meat a bit. The rest is getting frozen for the next time I make enchilada sauce! This would also work really really well in flavoring a mexican soup.
Immediately before serving, stir in the juice of 1 lime into your beef.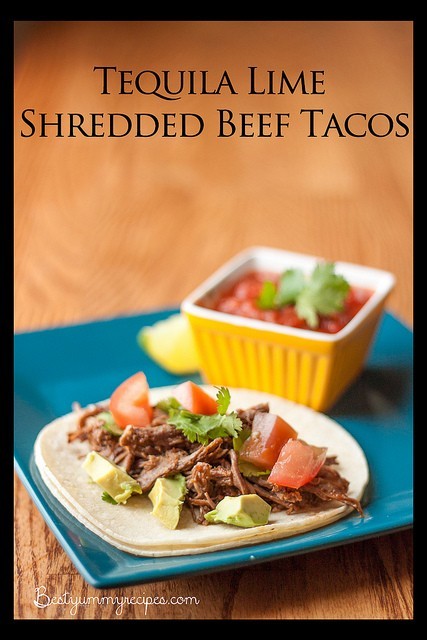 Serve your tacos with garnish and toppings of your choice.
Tequila Lime Shredded Beef Tacos
Ingredients
• 1 – 3 or 4 pound chuck roast (shoulder cut)
• 3 TBSP oil
• Salt, pepper, garlic powder, onion powder, chili powder, cumin – lightly sprinkled over roast
• 1 – 4oz can mild diced green chiles
• 1 – 14.5oz Aldi's Happy Harvest Fire Roasted Diced Tomatoes – Salsa Style (or substitute one can regular fire roasted diced tomatoes plus ½ cup of your favorite salsa)
• 3 TBSP good silver tequila
• 2 tsp chile powder
• juice of 1 lime
• toppings of your choice
Instructions
Preheat oil in a large skillet over high heat until nearly smoking. Season beef while oil is heating, and place in skillet to sear 2-3 minutes on each side, or until well browned. Reduce heat to low, and place roast into crock pot on high heat.
Pour can of green chiles and fire roasted tomatoes (and salsa if you are using it) into the skillet and stir, cooking for 2 minutes. Add tequila and cook another 2 minutes. Pour over the roast in the crock pot and place lid back on crock pot. Let cook for 4-5 hours on high, or 6-7 hours on low depending on your particular cut of meat and crock pot.
When the roast is fork tender, remove from the crock pot and shred with two forks, removing any fat or connective tissue you find along the way. Pour all but ½ cup of the pan juices out of crock pot and place in fridge to chill. Replace shredded beef into the crock pot, stir, and turn setting to warm.
When the pan juices have chilled and the fat has solidified on the top, scrape it off and pour more of the juice into the crock pot. You probably will not need it all. Save the rest for another use. (Would be great as a base for an enchilada sauce, or in a Mexican flavored soup.)
Immediately before serving, stir in the juice of 1 lime into the beef.