Sweet and sour chicken is deep-fried breaded white meat chicken, coated or served with sweet and sour sauce.
This recipe isn't exactly a 30-minute meal – it takes a little bit of time and preparation, but if you have a few extra minutes, this sesame chicken is 100% worth it. I love how crunchy the chicken is and that the sauce thickens beautifully to coat the chicken. It's not too thin, but not gloopy either; just right. Toss the chicken on a bed of white rice and top with toasted sesame seeds and chopped scallions, and you'll be in dinner heaven.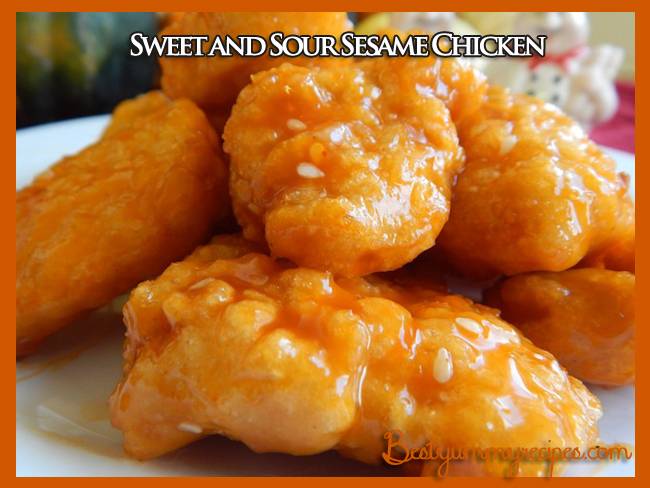 Sweet and Sour Sesame Chicken
MAKES 2 SERVINGS
Ingredients
10 oz. raw boneless skinless chicken breast, cut into nuggets
1/8 tsp. each salt and black pepper
1/4 cup fat-free liquid egg substitute (like Egg Beaters Original)
1/4 cup whole-wheat flour
1/4 cup fat-free chicken broth
1 tbsp. cornstarch
2 tbsp. sugar-free pancake syrup
2 tbsp. seasoned rice vinegar
1 tbsp. ketchup
1/2 tbsp. reduced-sodium/lite soy sauce
1/2 tsp. sesame oil
1/2 tsp. crushed garlic
1 tsp. sesame seeds
2 tbsp. thinly sliced scallions
Optional: red pepper flakes
Directions
Preheat oven to 375 degrees. Spray a baking sheet with nonstick spray.
Place chicken in a large bowl and season with salt and pepper. Top with egg substitute and toss to coat.
Put flour in wide bowl. One at a time, shake nuggets to remove excess egg and coat with flour. Evenly lay on the baking sheet. Bake for 10 minutes, or until chicken is cooked through.
To make the sauce, combine broth with cornstarch in a nonstick skillet; whisk to dissolve. Set heat to medium low. Add syrup, vinegar, ketchup, soy sauce, sesame oil, and garlic. Mix well. Cook and stir until thick enough to coat a spoon, 2 – 3 minutes.
Remove skillet from heat. Add chicken and toss to coat.
Plate and sprinkle with sesame seeds and scallions. If you like, add a sprinkle of red pepper flakes. Eat up!