I have eaten Pork Belly at several restaurants and absolutely loved it, but never seen it for sale — until last week that is. So armed with a massive slab of pork belly (which I promptly cut in half) I had to decide what to do with it!
When cooked slowly and to perfection, the result is out of this world in terms of tenderness and in regards to how each bite melts in your mouth!
Unbelievable Slow Cooker Beer-Infused Pork Belly
Serves 4
Ingredients
2-2 1/2 pounds pork belly
22 oz. stout
1-2 cups pork or chicken stock
1/3 cup brown sugar
1/4 cup apple cider vinegar
1/4 cup kosher salt
2 tablespoons extra-virgin olive oil
2 tablespoons sugar
1 tablespoon whole cloves
1 tablespoon whole mustard seeds, ground
Directions
Prep pork belly by using a sharp knife to score a diamond pattern into the skin.
Combine stout, 2 tablespoons sugar, salt, cloves, mustard seeds in a medium saucepan over low heat. Simmer just until salt and sugar are completely dissolved.
Remove from heat and let cool completely.
Place pork into a large re-sealable bag (or a large pot with a cover) and pour cooled beer mixture into the bag.
Seal and refrigerate for at least 8 hours, or up to 24, flipping occasionally to distribute brine.
Remove meat from brine (reserve the brine), rinse thoroughly and pat dry.
Heat olive oil in a large skillet over high heat and (cutting pork into smaller pieces, if necessary) sear meat on all sides. Note: once you place the meat down, don't move it. You want to get a good char and moving it around prevents that from happening.
Remove from heat and let rest until cool.
Pour 1 cup reserved brine mixture (strained), apple cider vinegar and brown sugar into the slow cooker and stir to dissolve. Then transfer pork to slow cooker. Note: pork should not be fully submerged in liquids.
Carefully add pork stock until pork is 1/4-1/2 submerged, then turn on LOW and cook for 6-8 hours (or until internal temperature reaches 160º F).
Transfer to serving plates, garnish with fresh herbs and serve with roasted veggies or potatoes. Optional: you can sear meat again (with another 2 tablespoons olive oil) after cooking in the slow cooker, if you want to get an even crispier outer crust.
Enjoy!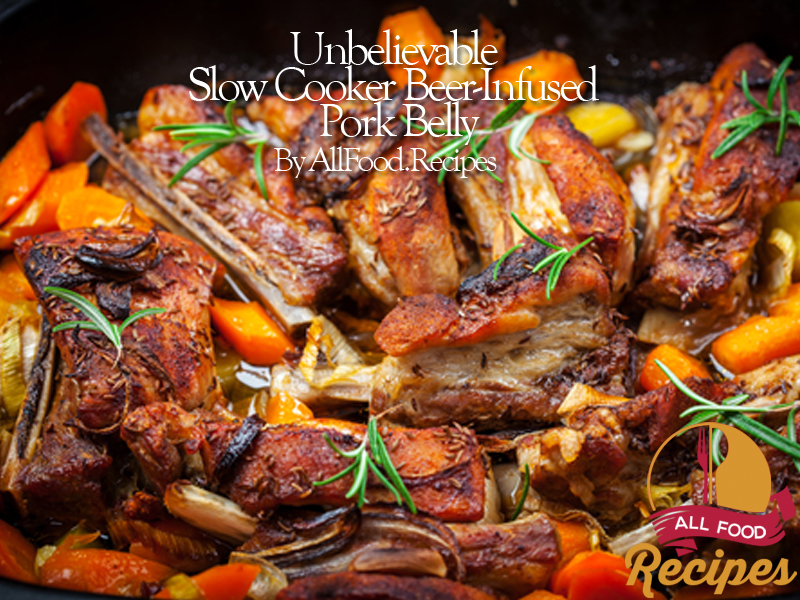 Recipe credit: 12 tomatoes