You're just a few simple ingredients away from this creamy chicken dinner. Serve over pasta or mashed potatoes to complete the meal!
Quick Chicken Lazone ( with Mushrooms)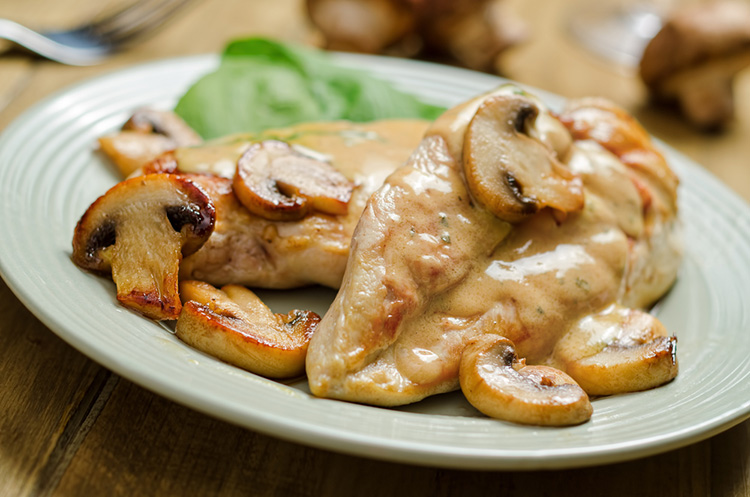 Prep Time: 10
Total Time 20
Servings 4
Ingredients
8 ounces of white or cremini mushrooms, sliced 1/8″ thick
2 teaspoons garlic powder
2 teaspoons chili powder
1 lb uncooked chicken breast tenders (not breaded)
4 tablespoons unsalted butter
1 cup whipping cream
salt and pepper to taste
Directions
In small bowl, stir together salt, garlic powder and chili powder. Sprinkle over 1 lb uncooked chicken breast tenders (not breaded) to completely coat.
In 10-inch skillet, melt 2 tablespoons of the unsalted butter over medium-low or medium heat. Add coated chicken tenders; cook 3 to 4 minutes on each side or until browned and no longer pink in center. Transfer chicken to plate; set aside.
In same skillet, add mushrooms and cook 2 to 3 minutes. add 1 cup whipping cream, scraping up any brown bits from bottom of skillet.
Increase heat to simmer or until cream comes to a boil. Reduce heat; simmer until cream is reduced by half. Stir in remaining 2 tablespoons unsalted butter. Season to taste with salt. Return chicken to skillet.
Tips
Serve over pasta and sprinkle with chopped fresh parsley for a more complete meal.