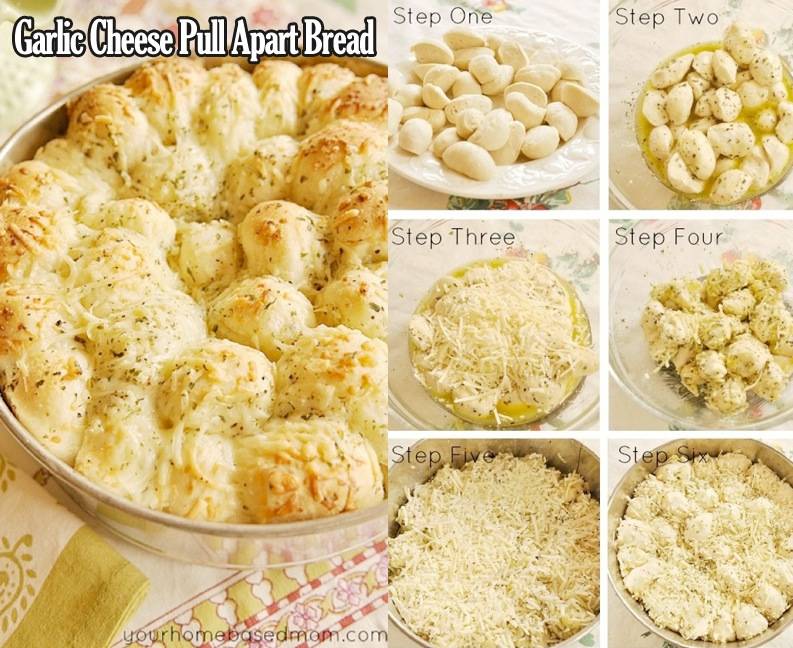 Garlic Cheese Pull Apart Bread with Frozen Bread Dough
Author: Leigh Anne from yourhomebasedmom.com ( For more wonderful recipes like this please visit the site Leigh Anne)
Please follow Leigh Anne in Facebook Here
Recipe type: Side/Bread
Cook time: 20 mins Total time: 20 mins
Ingredients
16 frozen white dinner rolls (Rhodes brand)
½ C butter, melted
1 C grated Parmesan cheese, divided
1 tsp dry parsley flakes
1½ tsp garlic powder
½ tsp salt
½ tsp Italian seasoning
½ tsp onion powder
Instructions
Remove frozen rolls from freezer and loosely wrap them in plastic wrap and allow to sit at room temperature for 45 minutes.
Cut rolls in half with a clean pair of scissors.
Combine melted butter and seasonings together.
Pour over dough and gently mix.
Add ½ C of grated cheese and combine.
You want each piece of dough to be coated.
Line the bottom of a 9 inch springform pan with the piece of dough and then top with remaining grated cheese.
Allow to rise in a warm place for 1½ – 2½ hours.
Cover bottom of pan with foil to prevent butter from leaking out.
Bake at 350 for 20-25 minutes or until center is completely done.