Craving some crazy-good Fall-off-the-Bone BBQ Ribs??
Nothing could be simpler than this Easy Crockpot BBQ Coca-Cola Ribs Recipe!
Skip the restaurant, and have some awesome BBQ at home tonight!! Go grab the Crockpot!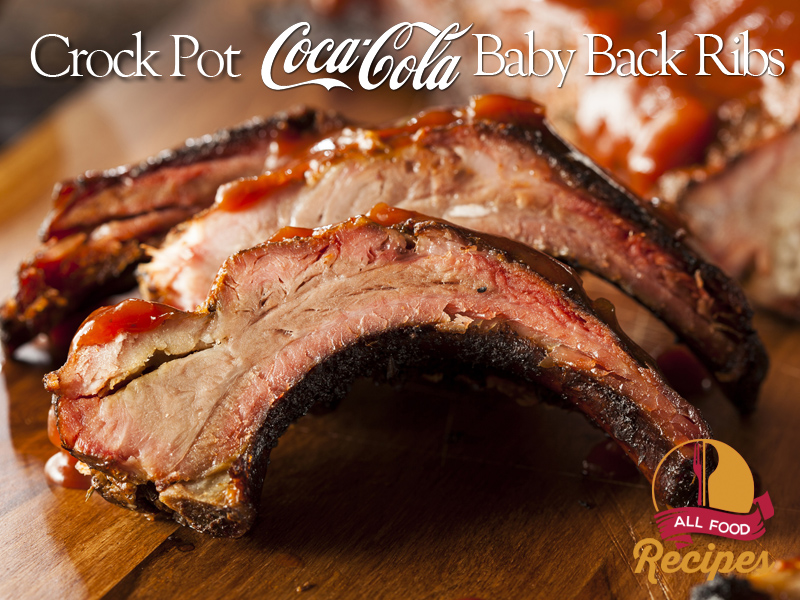 Crock Pot Coca-Cola Baby Back Ribs ( 5 ingredients)
Prep time: 5 mins
Cook time: 4 hours
Total time: 4 hours 5 mins
Serves: 6
Ingredients
1 Rack of Pork Baby Back Ribs (Approx. 3 lbs)
12 oz. Coca-Cola
1/4 cup Brown Sugar (optional)
1 18 oz.Bottle of Sweet Barbecue Sauce
Salt and Pepper to Taste
Directions
Spray the inside of the crock pot with non-stick spray or use a liner.
Cut Rib rack in half
Sprinkle ribs with Salt and Pepper, then place in Crockpot.
Mix BBQ sauce, brown sugar and Coke together in a bowl.
Pour BBQ sauce and Coke mixture over ribs Cover Crockpot with lid and cook on HIGH
for 4 hours, or LOW for 8 hours, or until done.
Tip: spoon sauce from Crock Pot over ribs 1-2 times while cooking to keep extra moist.
coca-cola-ribs-carmelized
Transfer the ribs to an oven safe pan.
Brush mix BBQ sauce( BBQ, coca-cola and brown sugar) over the ribs under broiler until they become caramelized. (Be sure to keep checking it as it doesn't take long to do)