Hello, Buffalo! If you like wings, you'll love our Buffalo Chicken ring! Made party style and perfect for sharing, this calzone-like treat is every Buffalo lover's dream!
Can't get enough of Buffalo chicken? We can't either!
Feed it to us on pizza, in dippin' strips, heck…hook us up to an IV! Or…skip the intravenous option and wow your mouth with the craziest flava eva when you pull together this incredible recipe for a Buffalo Chicken Crescent Ring.
Yup, a ring. It's like bling for Buffalo Chicken.
Step 1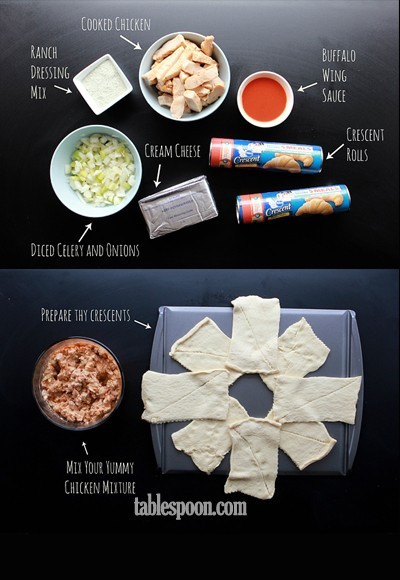 Step 2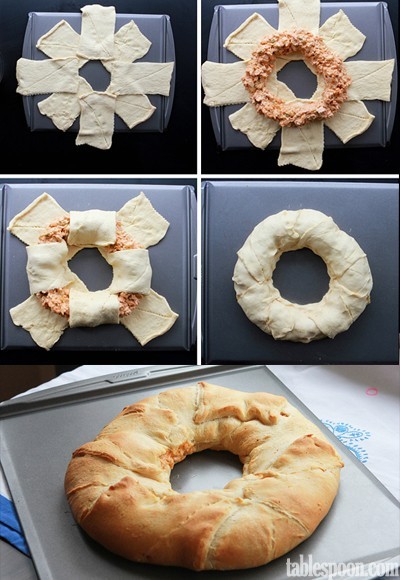 Done!!!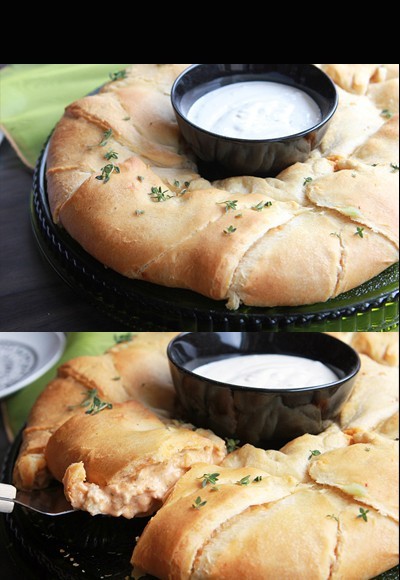 Buffalo Chicken Crescent Ring
Ingredients:
8 ounces cream cheese, softened
1 packet ranch dressing mix
1/2 cup celery, finely diced
1/2 cup onions, finely diced
1/2 cup Buffalo sauce
2 (6 ounce) packets cooked chicken, very finely diced
2 tubes crescent rolls
1/2 cup ranch dressing (for dipping), optional
1/4 cup scallions, cilantro, or fresh herbs, finely chopped
Directions
Preheat oven to 375 degrees. In a large bowl, combine cream cheese, ranch dressing mix, celery, onions, Buffalo sauce, and chicken. (Or, if you'd rather, mix it all together in a food processor.)
Open the tubes of crescent rolls and separate each roll into four rectangles. Lay the rectangles on a parchment lined or nonstick baking sheet to form a large circle.
Spoon chicken mixture into the center of the crescent dough ring. Fold the top of each crescent dough rectangle over the chicken filling, pressing into place to secure the dough all the way around the filling.
Bake in preheated oven at 375 degrees for 15-20 minutes, or until golden brown. Allow to cool slightly before serving. Garnish with chopped scallions, cilantro, or other herbs, if desired.