These little smokies wrapped in bacon have been one of my favorite appetizers ever since I was a kid! Smoked sausages wrapped in crispy bacon smothered in sticky brown sugar. An easy recipe for parties!
Brown Sugar Smokies – How to make a 5-star appetizer recipe that's super quick and easy. The sweet taste of brown sugar and the smoky flavor of bacon and sausage combine to form the perfect sweet-salty-savory snack.
Brown Sugar Smokies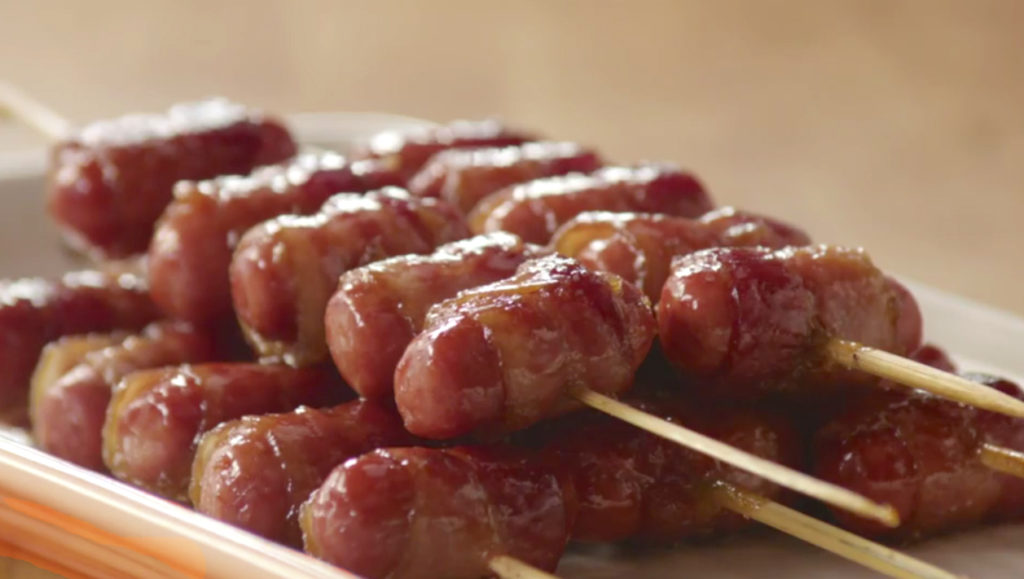 Little Smokies Wrapped in Bacon Recipe
When my mom first gave me the recipe it was nothing more than a few vague directions on a slip of paper.
There are only three ingredients to these addictive appetizers, but the first time I made them on my own they didn't taste as good as hers always do.
So I went back and asked for her secrets and I'm sharing them with you for the BEST bacon wrapped little smokies with brown sugar ever!
Start with cutting bacon into thirds. If you leave the strips any longer they will never crisp up.
There may be a few pieces of bacon left over. That's ok!
Brown Sugar Smokies – How to Make Little Smokies with Brown Sugar
Wrap one piece of bacon around one little smokie and place in pan. No need to secure with a toothpick, just place it seam down.
The pan you use makes a big difference. I asked my mom how she did it and she said she uses a glass baking dish, not a foil lined baking sheet.
To clean up after, she fills the pan with hot tap water and lets it sit for a few minutes. The caramelized sugar dissolves away.
After all the sausages have been wrapped in bacon, sprinkle with the brown sugar.
A smaller pan works well for this so the sugar ends up on top of the sausages and not in between cracks and rows.
After adding the sugar, cover and refrigerate for 1-2 hours. They can be cooked right away if you wish, but they come out 10 times better if you wait!
This was my mom's #1 tip. Letting them marinate makes all the difference in flavor.
How long do you cook bacon wrapped smokies?
When ready to bake, remember to uncover the pan. Start checking after 40 minutes. You'll know they're done when the bacon is crispy and the sugar is melted and caramelized.
Do little smokies need to be cooked
These little sausages are actually fully cooked already. You can eat them straight out of the package. I think they taste better warmed up and in some kind of sauce, but you do you.
What do you eat with little smokies
Little smokies appetizers are great all by themselves, but you can turn your smokies into a pseudo-meal by serving them up with some…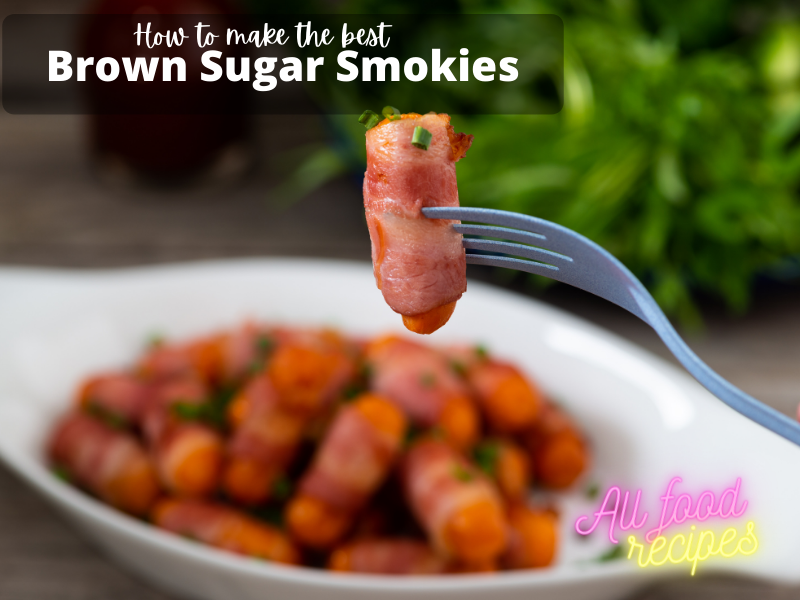 FREQUENTLY ASKED QUESTIONS:
What kind of little smokies should I use?
There are several varieties of lit'l smokies. We usually use beef, pork or turkey. You can use any of your favorite for this recipe. They do make a cheddar version but I do not recommend using that one for this recipe.
What kind of bacon is best to wrap little smokies??
Regular cut bacon is best for this recipe. I do not like using thick cut bacon as it will take longer to cook.
Why do I need to refrigerate these before cooking?
This actually helps the brown sugar melt down before baking making sure that the brown sugar fully melts in the baking process and you don't end up with burnt Little Smokies.
Can I add other seasonings to the brown sugar?
Absolutely! You can add whatever you think would taste great. Some other ideas include dried ranch seasoning, barbecue seasoning, or blackening seasoning.
What's the best way to keep these warm while serving?
Keep these warm in a small crock-pot for a fun party spread. Make sure to add a bit of the liquid over the smokies so they don't dry out in the crock-pot.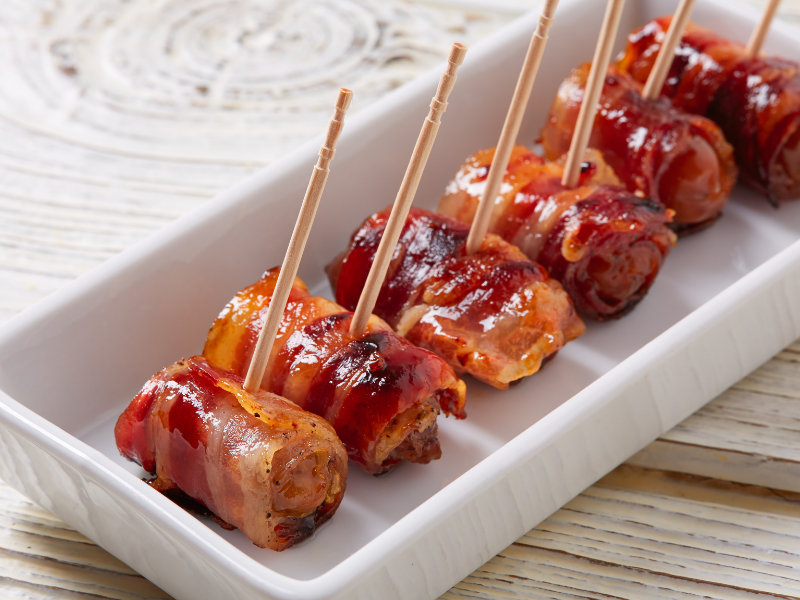 Ingredients
1

cup

brown sugar

1/2

teaspoon

cumin

1/4

teaspoon

chili powder

18

ounces

bacon

1 1/2 packages

14

ounces

little smokies

1 package
Instructions
Preheat oven to 325 degrees F.

In a small bowl, stir together the brown sugar, cumin, and chili powder. Set aside.

Cut bacon strips in half, down the center of the package. You should have about 42 shorter strips of bacon.

Wrap one bacon piece around one smokie. Secure the end of the bacon with a toothpick. Place the sasusage in a 9-inch x 13-inch pan with the toothpick sticking up. Repeat with remaining bacon and little smokies.

Sprinkle the brown sugar mixture all over the little smokies. You want as much as you can get on the sausage, but it's fine if the extra sugar is in the bottom of the pan.

Bake for 1 hour. (see note) Remove from the oven. Transfer to a serving platter and serve immediately, leaving the toothpicks in so guests can grab the smokies easily.
Nutrition
Serving:
1
serving
|
Calories:
104
kcal