Cupcakes for breakfast? Absolutely, when they're these savory ones with all your fave breakfast goodies tucked inside!
These Bacon Breakfast Cupcakes are totally legit for morning munching. Check it out: eggs, hash browns, cheese and even bacon make these like no cupcakes you've ever had before.
Here's how to make these luscious little hand-held morning jewels:
Step 1: Gather up the good stuff. Hash brown potatoes, eggs, Cheddar cheese…and of course crispy, smoky bacon.
Step 2: Mix the taters with some oil, salt and pepper. Press it all into muffin cups lined with greased foil liners. Bake the hash browns 'til they live up to their name (ya know…'til they're brown). That'll take 45 to 55 minutes.
Step 3: Meanwhile, whisk together eggs and milk. Stir in shredded Cheddar and some crumbled bacon.
Step 4: Firmly press the baked hash browns with a ¼-cup measuring cup or a large spoon. This makes more room for the egg, bacon and cheese layer.
Step 5: Add the egg mixture over the potato layer. Startin' to get how this is gonna happen?
Step 6: Bake until the egg layer is set and a knife inserted into it comes out clean.
Step 7: There you have it — breakfast in a cupcake. And you saw it all here. Serve 'em up with a generous squeeze of Sriracha sauce, if you're up for it!
//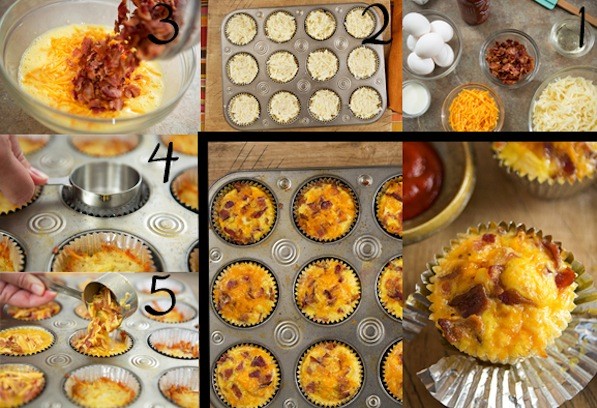 INGREDIENTS
1 bag (20 oz) refrigerated shredded hash brown potatoes
2 tablespoons vegetable oil
1/2 teaspoon salt
1/4 teaspoon pepper
6 eggs
2 tablespoons milk
3/4 cup crumbled crisply cooked bacon
3/4 cup shredded Cheddar cheese (3 oz)
Sriracha sauce
DIRECTIONS
Heat oven to 400°F. Place foil liner in each of 12 regular-size muffin cups. Generously spray with cooking spray.
In large bowl, mix potatoes, oil, salt and pepper. Divide evenly among cups; press lightly.
Bake 45 to 55 minutes or until golden brown.
In medium bowl, beat eggs and milk. Stir in bacon and cheese. Firmly press potatoes in muffin cups with bottom of 1/4-cup dry measuring cup. Top each with slightly less than 1/4 cup egg mixture.
Bake 13 to 16 minutes or until knife inserted in center of egg comes out clean. Cool 5 minutes. Serve with sauce.