Rum Cake is a nutty yellow bundt cake made with dark rum, pecans, and topped with a rum glaze for a boozy dessert. Folks were so excited about my Nothing Bundt Cakes, I knew adding another adult cake to the mix was a great idea!
Rum Cake — A double dose of rum in this EASY cake that's supremely moist, buttery, and literally juicy from all the rum!! The perfect make-ahead holiday entertaining cake that everyone will LOVE!!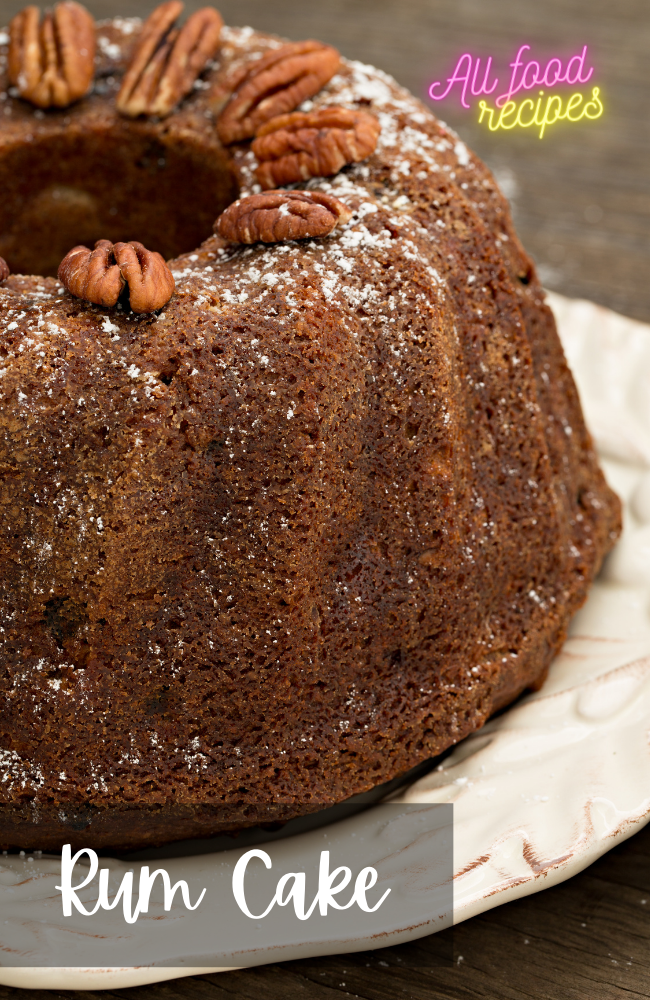 Rum Cake
If you don't like rum, you may want to try my Cream Cheese Pound Cake or Pecan Upside-Down Bundt Cake  instead of this cake. There is no denying there is rum in the cake, as well as in the glaze! In fact, there is quite a strong rum flavor in every bite. So, if you love rum, you will definitely love this delicious cake.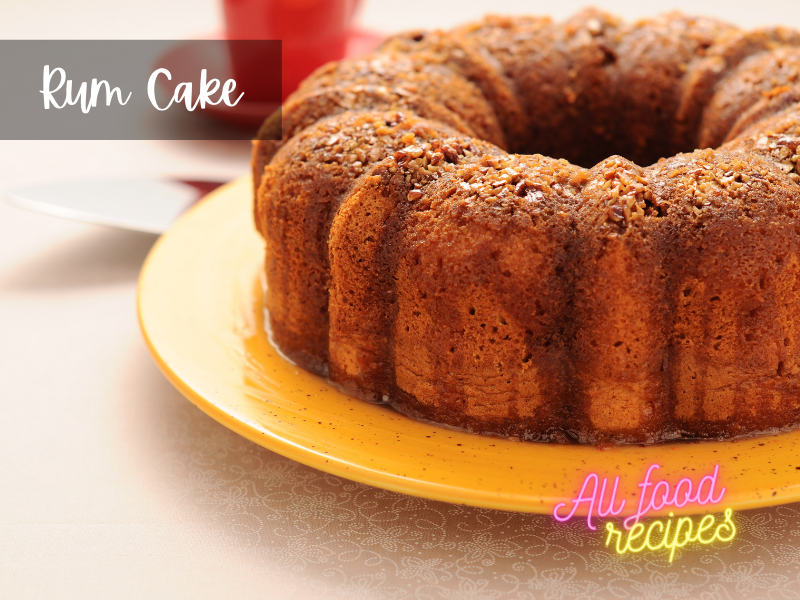 Cake Ingredients
There are two parts to this recipe–the yellow rum cake and the rum glaze.
Nuts: I added chopped nuts to the cake, but you could leave out the nuts if preferred.
Pudding Mix: Look for a package of vanilla instant pudding mix (not cook and serve).
Flour: I used all-purpose flour in the cake; we have not tested this with other kinds of flour.
Rum: There is both dark and light rum. I used dark rum in this recipe, which gives it a darker color. The darker color comes from being aged in charred oak or wooden barrels before being filtered and bottled. Dark rum will give the cake more flavor; if light rum is all you have, you could use it, but the flavor may be altered a bit.
What Type of Rum Should I Use?
Like I said before, I used a dark rum, but I want to emphasize that: I used Meyer's dark rum (not sponsored by them in any way) because I wanted a bolder, richer, sweeter flavor than a white rum can offer. like Bacardi. You can also try a spiced rum like Captain Morgan or even a coconut rum like Malibu. If you try the Malibu option, I'd use half Malibu and half another rum because I could imagine a Malibu cake going coconut gooey, sweet and disgusting.
Can I Make This Cake Without Rum?
Well, not really. It is, after all, called a rum cake for a reason. However, one way to reduce the amount of rum in the recipe is to use simple syrup to top the cake rather than the rum glaze. That would tone down the rum flavor a bit.
What is the Difference Between a Bundt Cake and a Regular Cake?
This may seem like a question that is a no-brainer. The difference between a bundt cake and a regular cake is that a bundt cake is baked in a bundt pan (also known as a fluted tube pan)! Well, that is true, and part of the answer, but not the entire answer.
Another difference is the bundt pans have a cylindrical hole in the middle, which means more of the cake will touch the sides of the pan. This results in a crustier edge. This isn't a bad thing; it is perfect for supporting any frosting or decorating you may add to the cake.
The hole in the center of a bundt pan can also cause a drier cake since it is more exposed to the heat in the oven. To prevent this, be sure to use full-fat ingredients in the batter. This will keep the cake moist, which is what you want in a pound cake or any other dense, moist cake that is made in a bundt pan!
What Size Bundt Pan Should I Use?
Size does matter when it comes to making bundt cakes. I used a 10-inch bundt pan that holds 12 cups of liquid. Generally, the size of bundt pans is determined by how many cups of liquid it holds. When adding the batter, just be sure to not add too much of it or it will overflow in the oven. A good tip would be to fill the pan about 2/3 of the way full. And, if possible, use a light, nonstick metal pan for best results.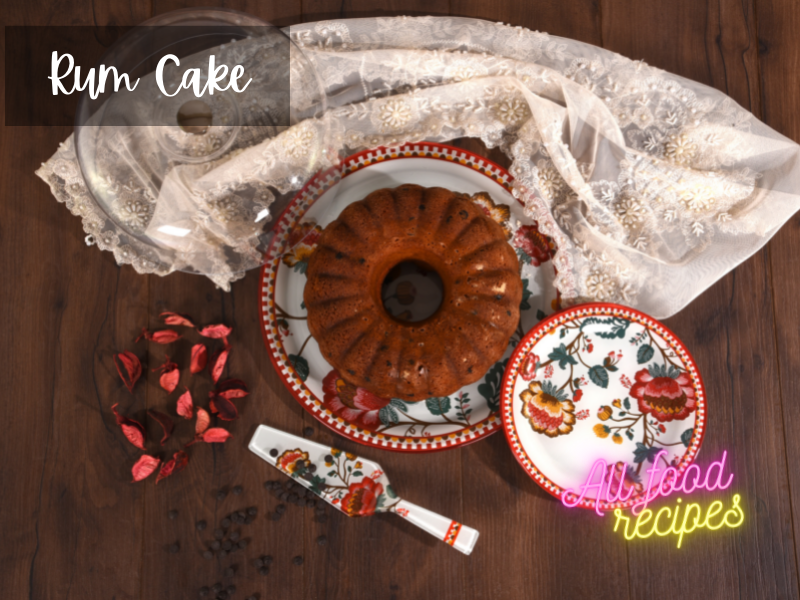 Serving Suggestions
As far as I'm concerned, this recipe for rum cake is perfect as is. However, you could serve slices with one or more of the following if desired:
How to Store
This cake can be stored in an airtight container at room temperature for up to four days, or in the refrigerator for up to seven days.
Powdered sugar
Fresh berries
Whipped cream
Vanilla ice cream
Ingredients
Cake
1

cup

109 g chopped pecans

1

package

3.4 ounces vanilla instant pudding mix

2¼

cups

281 g all-purpose flour

1½

cups

300 g granulated sugar

2

teaspoons

baking powder

1

teaspoon

kosher salt

½

cup

1 stick / 113 g unsalted butter, softened

½

cup

122.5 g whole milk, room temperature

½

cup

109 g vegetable oil

1

tablespoon

vanilla extract

4

large eggs

room temperature

½

cup

111 g dark rum
Rum Glaze
¼

cup

½ stick / 57 g unsalted butter

¼

cup

water

1

cup

200 g granulated sugar

½

cup

111 g dark rum
Instructions
Preheat the oven to 325°F. Spray a 10-inch bundt pan with nonstick cooking spray.

Sprinkle nuts over bottom of pan.

In a large mixing bowl add pudding mixture, flour, sugar, baking powder, and salt. Set aside.

Into the bowl of a stand mixer with the paddle attachment, add the butter. Mix on medium speed for 1-2 minutes.

Add the dry ingredients to the butter and combine for 30 seconds.

Add milk, oil, vanilla, and the eggs, one at a time, and mix on medium-high for one minute, scraping down the sides of the bowl as needed.

Stir in the rum and mix until combined.

Pour batter over nuts and spread batter in an even layer.

Bake 55-60 minutes, or until a toothpick inserted in the center comes out clean.

Remove the cake from the oven and let it cool for about 10 minutes.

After about ten minutes, invert the cake onto a serving plate.
Rum Glaze
Use a skewer or toothpick to prick holes all over the top of the cake, about an inch or two apart.

In a medium saucepan over medium heat add butter, water, and sugar.

Bring to a simmer and stir until the sugar has dissolved, (2-3 minutes). Remove from heat and stir in rum.

Carefully spoon or brush the rum glaze evenly over the top and sides of the cake, going slowly and taking your time so the cake absorbs the glaze. Continue until all glaze is used.
Nutrition