Lasagna all dressed up with somewhere to go…
I know we all love lasagna but it doesn't necessarily have the best presentation. We like that it has a comfortable gooeyness that can be slopped on a plate to devour.
New Year's Eve is a night that's all about the appetizers. But since New Year's Eve a night that a lot of us put on our fancy outfits and hit the town, lasagna doesn't really seem appropriate.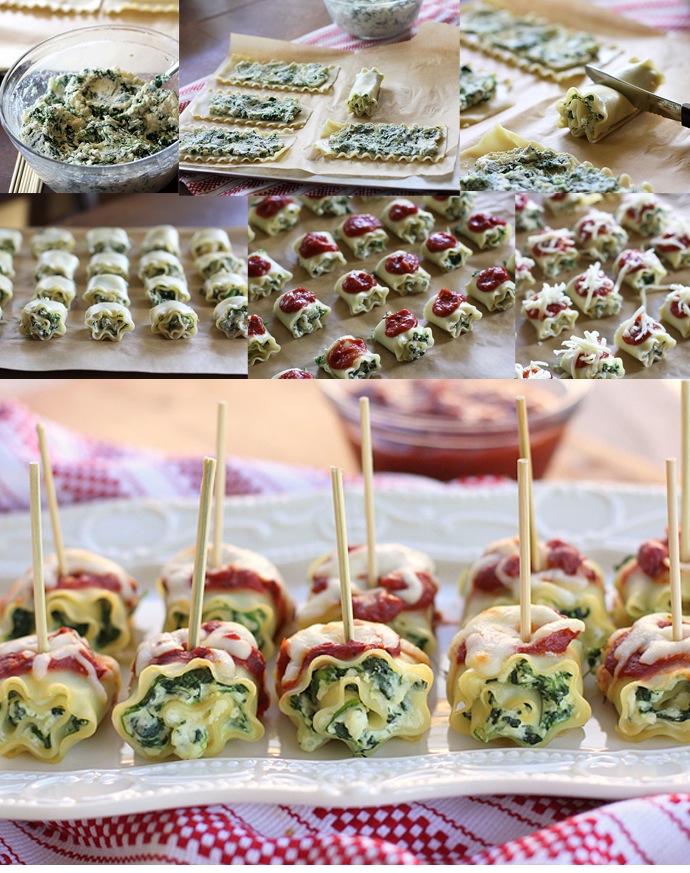 Mini Spinach Lasagna Roll-Ups
Ingredients
8 lasagna noodles, cooked
1 (10 ounce) package Green Giant frozen chopped spinach, thawed and well drained
1 (15 ounce) container ricotta
1/2 cup Parmesan cheese
1 egg
1/2 teaspoon minced garlic
1/2 teaspoon Italian seasonings
if salt and pepper, desired
1 (15 ounce) can Muir Glen organic pizza sauce
1 cup shredded mozzarella cheese
Directions
Preheat oven to 350 degrees.
In a medium bowl combine spinach, ricotta, Parmesan cheese, egg, garlic, and Italian seasonings. Add salt and pepper if desired.
Pat noodles dry with a paper towel and lay them on parchment or wax paper. Cut each noodle in half widthwise. Fill each noodle with 2-3 tablespoons of the ricotta mixture, leaving an inch empty on one side of the noodle. Start rolling each noodle up, ending on the side that has one inch empty. This is so that the filling doesn't spill out the end.
Slice each noodle in half with a sharp knife and place roll seam side down in a baking dish that has been sprayed with cooking spray. Make sure you have a dish that has a 1-2 inch edge so that you can cover it with foil later and not mess up the rolls. If you like your pasta with crispy edges, no need to cover it.
Place 1 teaspoon of pizza sauce on top of each roll and top each with a teaspoon of mozzarella.
Cover baking dish tightly with foil and bake for 18-20 minutes or until cheese is melted inside. Serve with warm pizza sauce for dipping.
Freezer instructions: Prepare as directed above but freeze right before baking. Reheat by baking for 25-30 minutes at 350 degrees. Or for a quick snack, freeze after baked and pop one in the microwave any time you want a little bite!
Recipe and Photo credit:tablespoon / CC BY-NC-ND