Easy Breakfast Pizza Step by Step
This was awesome! We have a weekly tradition of pizza at our house and it's fun to find a fun variation. Plus we LOVE brinner, so this was perfect for our family.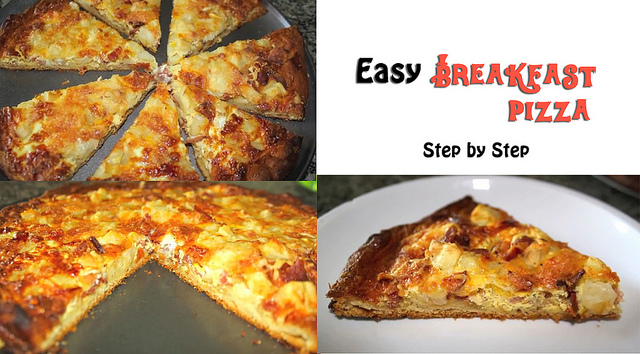 Ingredients
1 (8 ounce) package refrigerated crescent rolls ( any brand)
1 cup cubed potatoes
1/2 cup chopped bacon, cooked
1 cup cheese ( I use six cheese Italian)
3 eggs
1/4 cup milk
1/2 teaspoon salt
1/8 teaspoon ground black pepper
Note: You can choose to frozen hash brown potatoes, but thawed
and ham instead of bacon.
Use your favorite cheese, if you like it hot add chili pepper or pepper jack cheese. If you love cheese add more quantity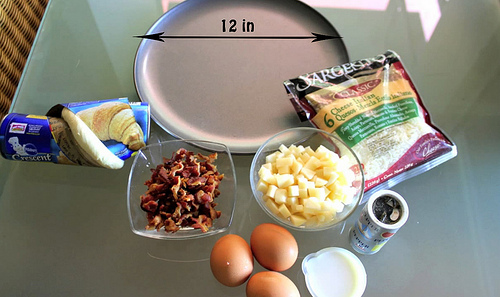 Directions
Preheat oven to 375 degrees F (190 degrees C).
Separate crescent roll dough into 8 triangles.
Place in an ungreased 12 inch pizza pan with points toward the center. Press together to form a crust. Bottom of crust should be sealed and outside edge should be slightly raised so that the beaten eggs don't run off the edges too much.
Spoon bacon and any other of the toppings you chose over crust.
Sprinkle with cubed potatoes and top with cheddar cheese.
Beat together eggs, milk, salt and pepper; pour over crust.
Bake in preheated oven until eggs are set, about 25 to 30 minutes.