These Crockpot Chicken Wings are crispy on the outside but still moist & tender! With Buffalo, BBQ and Honey Garlic options, there's something for everyone!
You'll never believe how easy it is to make these crockpot chicken wings for a party or game day. I love that they can cook all day long in the slow cooker and then be finished off under the broiler so you get crispy skin. This recipe uses just five ingredients (including salt and pepper), and you can add your own hot sauce to control the spice level.
Video https://www.facebook.com/Thinkarete/videos/446219022950987/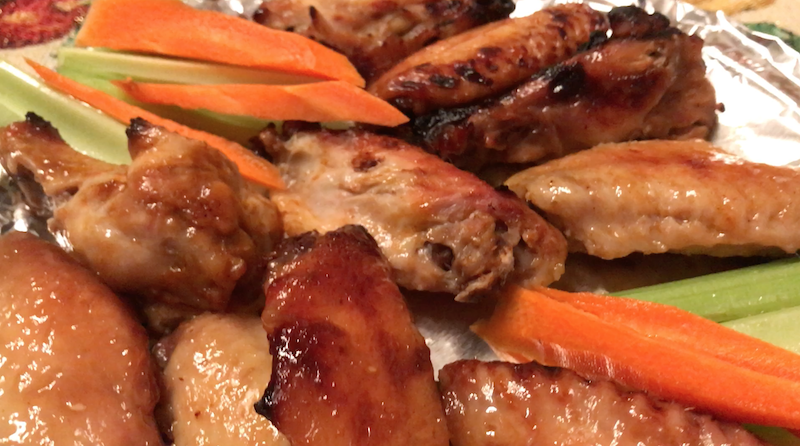 These Crockpot Chicken Wings are ridiculously easy because you don't have to overthink the cook time. They're going to be super tender and juicy in just a few hours, but you will still get that crispy skin after a couple minutes under the broiler.
3 lbs chicken wings
The dynamic duo of chicken wings and crockpots is a match made in heaven. The slow cooker keeps these tasty morsels moist and tender, while the wings get smothered in mouthwatering sauces. The best part about this dish? You just put everything in the pot and let it work its magic. We recommend making at least double what you think you'll eat, because these babies go fast!
Here's how to make our favorite chicken wing dishes: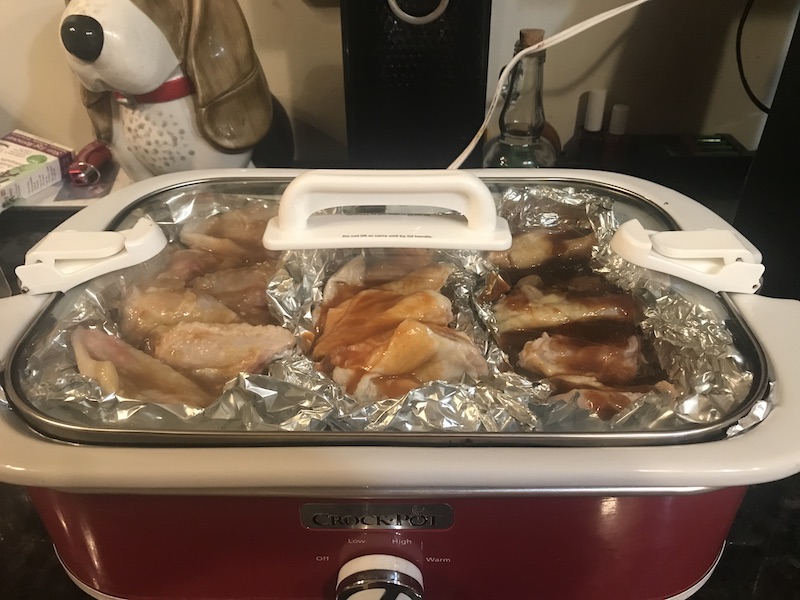 Normally, I try to avoid adding in extra pans or cooking methods when I'm making something in my slow cooker or Instant Pot, but for these crockpot chicken wings, I really think we need both.
But you can throw them in and let them hang out with all kinds of delicious flavors in the crockpot while you have a nap (or do other very important things), and then throw down some parchment paper and broil for a few minutes before your guests arrive and you'll look like you really put in a lot of effort ????
Need to keep these Crockpot Chicken Wings warm for a while?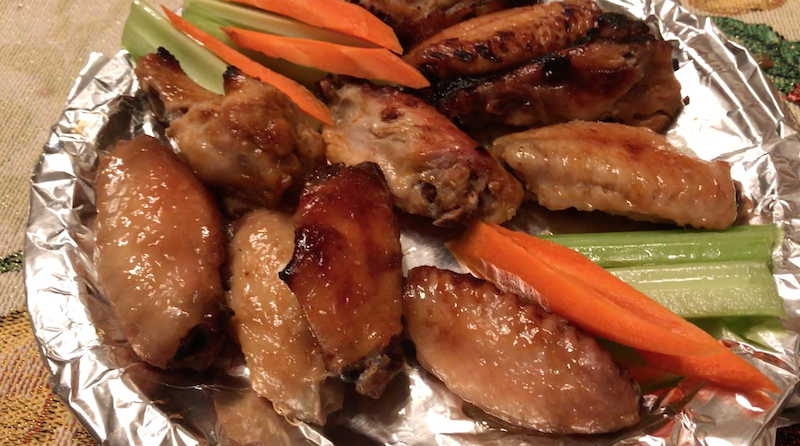 If you happen to be bringing these chicken wings to another location for your big celebration, simply save the tin foil boats that you cooked them in (all of the juices are completely cooked so there is nothing to worry about!), and throw the broiled wings back into the crockpot for the ride over.
You can keep it plugged in on the warm setting to serve and that way no one has to eat cold wings!
Fresh or frozen chicken wings?
Let's be honest, I love in the middle of now here and most of the meat I buy goes directly into the freezer for another day. I like to stock up when things are on sale so I always have food to pull out for another day.
I don't recommend cooking chicken wings right from frozen because they will release quite a bit of water into the sauce which will dilute the flavor significantly.
Crockpot Chicken Wings :
Prep Time 15 minutes
Cook Time 3 hours 5 minutes
Total Time 3 hours 20 minutes
Servings 24 wings
Calories 135kcal A
Ingredients
Honey Garlic Sauce
1/3 cup honey
2 tablespoons low sodium soy sauce
1 tablespoon corn starch
1 tablespoon brown sugar
1 teaspoon minced garlic
Crockpot Chicken Wings
24 fresh, split chicken wings (bone in, skin on)
salt and pepper
1/2 cup buffalo wing sauce
1/2 cup barbecue sauce
Instructions
Honey Garlic Sauce
In a medium bowl, whisk together honey, soy sauce, corn starch, sugar and garlic.
To make Crockpot Chicken Wings
Lightly season all chicken wings with salt and pepper.
Fold a large piece of tin foil in half (this will make it stronger and prevent leaks), then form a "boat" or pocket for the chicken wings to cook in in the crockpot.
Repeat two more times for a total of 3 tin foil pockets that fit snugly in a 4-6 quart crockpot.
Place 8 chicken wings in each foil pocket.
Reserve 2 tablespoons from each of the 3 sauces, then pour remaining sauce into the foil pockets over the chicken wings, one flavour in each pocket.
Cover and cook on low for 3-4 hours until cooked through (an internal temperature of 165 degrees F is reached).
Place on a rimmed baking sheet lined with parchment paper, leaving some separation between flavours. Brush chicken wings with reserved 2 tablespoons of each sauce.
Broil for 3-5 minutes, until crisped and starting to brown. Serve.
Nutrition
Calories: 135kcal | Carbohydrates: 7g | Protein: 8g | Fat: 7g | Saturated Fat: 2g | Cholesterol: 37mg | Sodium: 294mg | Potassium: 93mg | Sugar: 6g | Vitamin A: 85IU | Vitamin C: 0.4mg | Calcium: 8mg | Iron: 0.5mg
It's an awesome recipe for a crowd because it doesn't require much hands-on work.
It's an awesome recipe for a crowd because it doesn't require much hands-on work. This is one of those dishes that you can make ahead of time and then just set on the counter until the party starts. You don't have to worry about any last-minute cooking or cleaning up in the kitchen when your guests arrive so you can enjoy yourself!
Before serving, combine 1/2 cup of chicken broth with 1 tablespoon cornstarch in a small bowl and stir until completely combined. Pour mixture into slow cooker; cover and cook on high heat for 45 minutes (or longer if desired). Stir sauce occasionally during cooking time so that it thickens evenly all over wings.*
Conclusion
If you're in a pinch, you could use store-bought sauce. But I strongly recommend you try these homemade sauces because they taste so much better, and it's super easy to make them!