Looking for creative ways to make some extra cash this year? What better a creative way to make extra money than by selling some DIYs you made? Here 6 of the most beautiful and easy ideas Enjoy!
6 Crafts Ideas To Make And Sell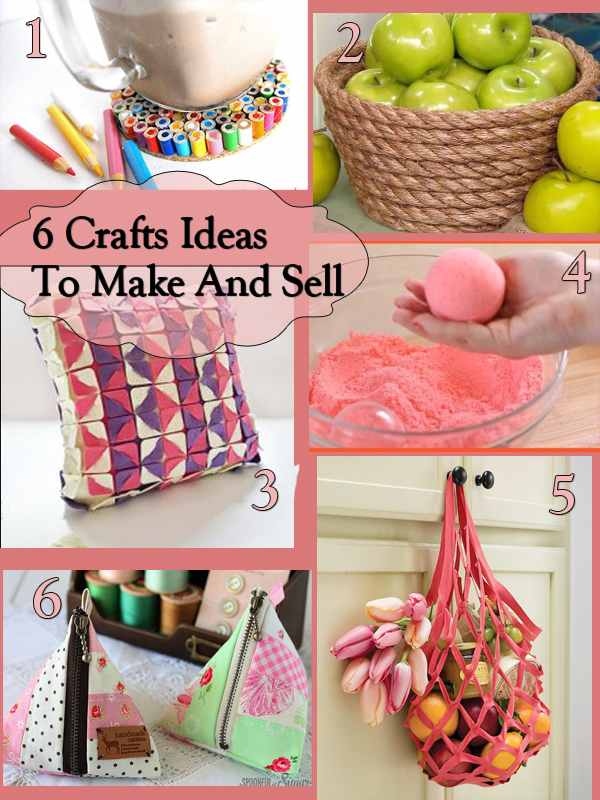 1- Colored Pencil Coasters
Here Step by Step consumercrafts
2- Crafty DIY Rope Bowls
This rope bowl only looks expensive and hard to make. I was so surprised when I found out elegant DIY home decor like this could be made with only rope and a glue gun! Craft your bowls in minutes and you will have a ton of them to sell in no time
Here Step by step diyjoy
3- No Sew Pillow Cover
he cute colors and fun patterns just make you want to go touch them (and hopefully buy them and take them home) Check out the tutorial by Put and Pull to learn how to make these highly marketable pillows.
Here Step by Step putandpull
4- DIY Bath Bombs
Looking for easy things to make and sell? Bath bombs are super popular right now, thanks to stores like Lush that sell fabulous ones
Here Step bu Step diyprojectsforteens
5- No Sew Market Tote Bag
Here step by Step marthastewart
6- Cute Triangle Pouch
Here Step By Step aspoonfulofsugardesigns