Christmas Punch Recipe is an easy and delicious holiday party drink packed with fruits like cranberries, oranges, and pomegranates. Keep it non-alcoholic or add rum or vodka for extra holiday spirit!
Christmas punch is a tradition in our family and has always been a hit with everyone. It's easy to make and delicious! Keep it alcohol free or add rum or vodka for the adults!
This Christmas punch combines fruit juice and ginger ale. If you love a little punch for the holidays, you need to check out these Christmas cocktail recipes…they're the best!
It takes less than fives minutes prep time and would be a lovely, useful centerpiece at any holiday party because:
It's simple but beautiful, with the right amount of holiday sparkle.
Guests will love it (and love you for making it!).
Crowd control. Think of holiday punch as your party's water cooler. Guests will flock wherever it's placed.
What Is Christmas Punch Recipe?
Christmas Punch Recipe  is an absolute holiday must-have! This is my favorite recipe of 5 years, adapted from my mother's own cookbook. It's a delicious blend of juice and soda that can be served with or without alcohol. Perfect for a Christmas party, this loose cocktail or mocktail is super easy to make! No prior knowledge required, we guarantee it!
Garnishes like fresh cranberries, pomegranates, and orange slices really make this drink festive and the addition of vodka or rum will add tons of extra holiday joy!
When I was growing up, the Christmas menu was always changing, some years it was Turkey, some it was Ham, some it was lamb, and the occasional pizza, and these days it's usually all of the above because my family is filled with picky eaters.
But even when the food was getting changed up, my mom always made a Christmas Punch recipe. Sure, that too changed over the years, but regardless of the ingredients, there was always punch.
Oh, and there were always Cranberry Orange Meatballs too because wars would have broken out if those weren't there!
My mom always used the same base: cranberry juice, orange juice, and ginger ale. And I've added pomegranate juice to the mix and swapped the ginger ale for lemon-lime soda, I prefer Sierra Mist. I've also added pineapple juice from time to time when I want it a little sweeter.
Non-Alcoholic Christmas Punch
This punch is perfect for any Thanksgiving or Christmas breakfast table. A great wine for large family gatherings that everyone will love. This recipe can easily be doubled for many people or halved for a small batch.
Ingredients Needed:
(full amounts in recipe box below)
Orange Juice
Cranberry Juice
Pomegranate Juice
Ginger Ale
Fresh Cranberries (optional)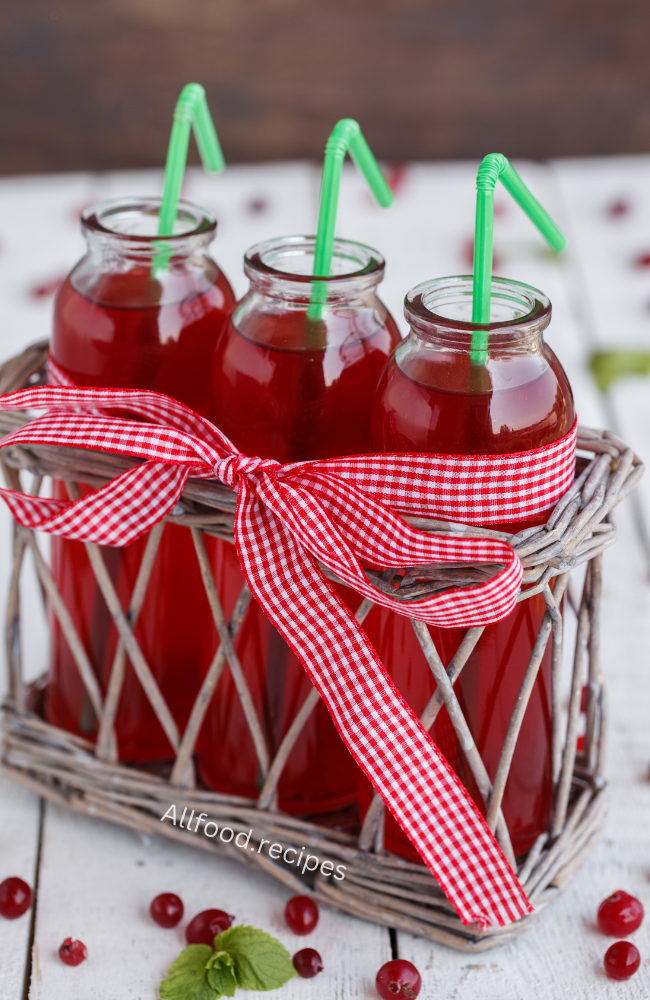 How To Make Christmas Punch Recipe

Make sure all ingredients are refrigerated.
Place cranberry juice, pineapple juice, and orange juice into the large drink dispenser and blend. Then add ginger ale and stir briefly.
Put the jug in the refrigerator and drink it within a few hours before the ginger ale starts to go bad. If you're feeling more festive, you can garnish with fresh cranberries and orange slices.
You can also add some ice.
Pour the punch into cute little glasses wrapped in ribbon, as pictured above. Kids will especially love this.
Christmas Punch with Alcohol:
Add 1 cup of Rum or Vodka to the punch mixture for the adults.
Garnishes:
Fresh cranberries, pomegranates, fresh mint and orange slices really make this drink festive and the addition of vodka or rum will add tons of extra holiday joy!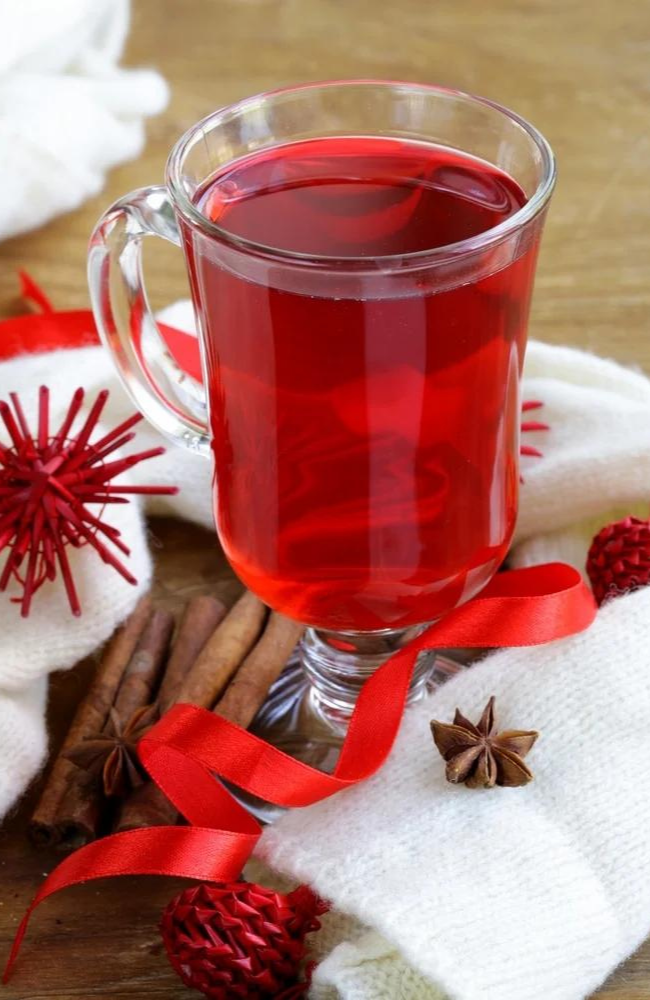 Tips for Perfect Christmas Punch
Use good quality "100% juice," skip juice "beverage" or "cocktail" (they have added water, sweeteners, and or flavors). Don't use 100% cranberry only juice it's much too tart.
Use chilled ingredients. If the soda and juices are cold beforehand you don't need to add as much ice, therefore it won't be so diluted.
Don't be tempted to stir or you'll stir more than once when adding the soda or you'll start to stir out the carbonation.
Garnish it. Drinks taste better when they look better. The cranberries and limes are optional but I'd say at least use one or the other (unless serving from a pitcher or punch bowl, skip cranberries due to choking hazard).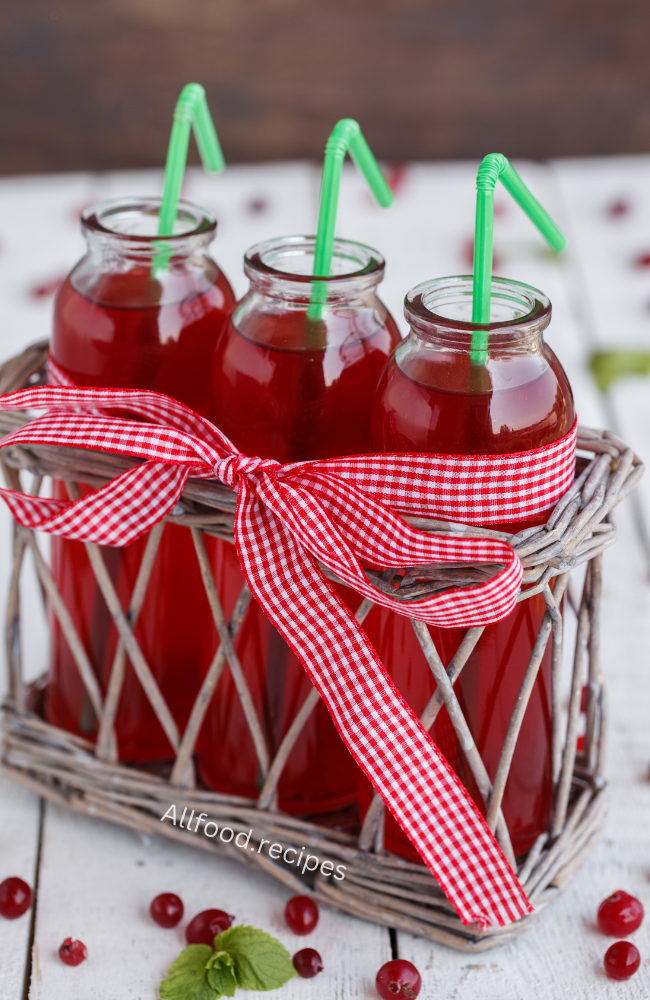 Ingredients
2

cups

orange juice

2

cups

cranberry juice

1

cup

pomegranate juice

1

cup

Ginger Ale
Instructions
Mix all of the ingredients together in a pitcher. Place and in the fridge and serve cold.
Nutrition
Serving:
1
cup
|
Calories:
124
kcal