Beautiful on the outside and irresistibly yummy on the inside!
Chocolate Chip Cookie Dough Egg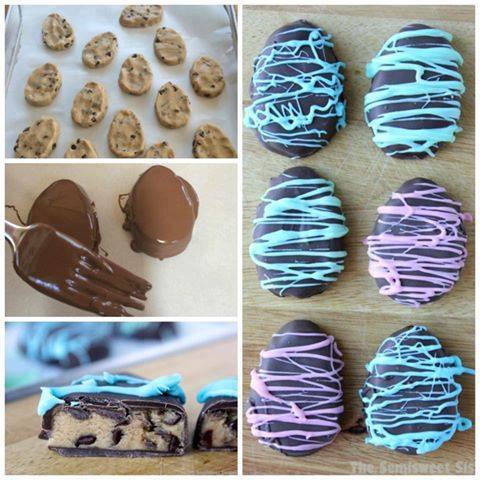 PREP TIME 20 mins
TOTAL TIME 20 mins
Serves: 16-18
INGREDIENTS
1/2 cup soft butter
3/4 cup brown sugar
2 teaspoons vanilla
1/4 teaspoon salt
3/4cups flour
2 teaspoons milk
1/2 cup powdered sugar
1/2cup mini chocolate chips
chocolate almond bark ( I used about 3/4 of a 24oz package)
white almond bark ( I used 6 squares of a 24 oz package)
food coloring
INSTRUCTIONS
In large bowl cream together butter and brown sugar. Add vanilla, salt, flour, milk and powdered sugar. Mix until well combined, add chocolate chips.
Scoop dough into 1 inch balls and shape into eggs on a parchment paper lined pan.
Freeze for at least 2 hours.
After 2 hours, melt the chocolate almond bark according to the package.
Dip each frozen egg into the chocolate, shake off extra and put on parchment paper, let dry.
Melt white almond bark and add food coloring, then drizzle over chocolate egg using a fork.
I used 2 squares of almond bark and 1 drop of food coloring for each color I made.
Recipe from http://www.thesemisweetsisters.com