When you think of chicken nuggets, you probably envision some foamy, processed meat with a greasy crust that you dunked in ketchup as a child.
These Chicken Cordon Bleu Nuggets are not those nuggets.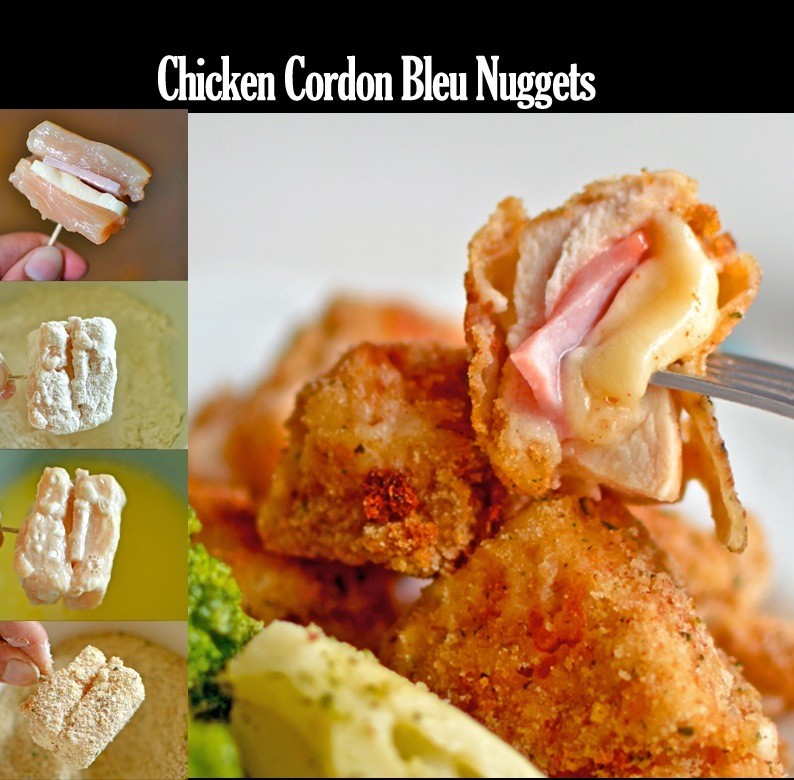 In fact, these nuggets are not even distantly related to those nuggets. They're cheesy. They're crispy. They're juicy. They are the happy meal that grew up. And got married to some cheese and ham.
I actually tried stuffing the chicken nuggets, but in the end, it was easier to "sandwich" the cheese and ham in.
If you stick a toothpick in, it make them easier to coat and keeps them together.
Dunk them in the flour first.
Then in some eggs beaten with some water.
And finally, a nice coat of breadcrumbs.
I think the Progresso Italian Style breadcrumbs are pretty swell.
Give them a good spritz of cooking spray and then toss 'em in the oven. While they're cooking, grab your side dish. I used a bag of this broccoli and just threw it in the microwave. It's delish.
And that's all there is to it. Dive in!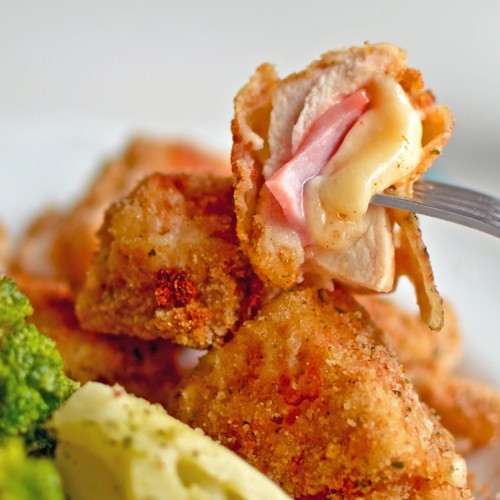 Chicken Cordon Bleu Nuggets:
(Makes about 24 nuggets)
Ingredients:
5 chicken breasts (uncooked)
8 ounces swiss cheese
7.5 ounces sliced ham (I used Oscar Mayer Carving Board sliced ham)
6 ounces box chicken stuffing mix, finely ground or you can use Italian style bread crumbs
1/2 cup flour
3 eggs beaten
1 teaspoon water
Directions:
Heat oven to 350 degrees. Cut chicken breasts into 1 1 /2 inch squares. If the chicken is thick, cut it in half so it's thinner. Slice the cheese and ham into 1 inch squares. Sandwich the cheese and ham between 2 slices of chicken. Poke a toothpick in the center of the sandwich. The toothpick holds it together when rolling in the flour, egg, and crumb mixtures.
Beat the 3 eggs with 1 teaspoon of water. Dip the cordon bleu nugget in the flour mixture, then roll in the beaten egg mixture, then roll in the stuffing crumbs. Set on a greased cookie sheet. Slide the toothpick carefully out of the nugget after putting it on the cookie sheet. It will stay together. After you have dipped all of the nuggets, spray them with butter flavored cooking spray.
Cook uncovered for 20 minutes.
Honey Mustard Dipping Sauce:
1 tablespoon yellow mustard
1 tablespoon dijon mustard
1/4 cup honey
1/2 tablespoon lemon juice
1/8 teaspoon onion powder
1/3 cup mayonnaise
Directions:
Mix above ingredients together until well blended. Keep refrigerated until ready to serve.
Recipe adapted from Yammie's Noshery
//