Waffles make me happy. Just the word "waffle" makes me happy.
People who waffle don't make me so happy. But eating waffles does. Especially when they're in cake form, like this Black Forest Cherry Waffle Cake. What the what? That's what I said.
I'll come right out and say it — I've never eaten a waffle cake before. But something told me that the idea was a good one, so I went for it. And ermagerd, was it a good one! Layers of chocolate waffles and fresh whipped cream and dark sweet cherries with a dark chocolate ganache on top? MAMA. I don't think I could ever eat waffles any other way again.
You know what else is awesome about waffle cake, other than the fact that it tastes absolutely scrumptious? The fact that it takes T-minus 30 minutes to put together from start to finish. IT'S MAGIC. Also a leetle dangerous, because this girl loves her cake. Anywayyyyzz…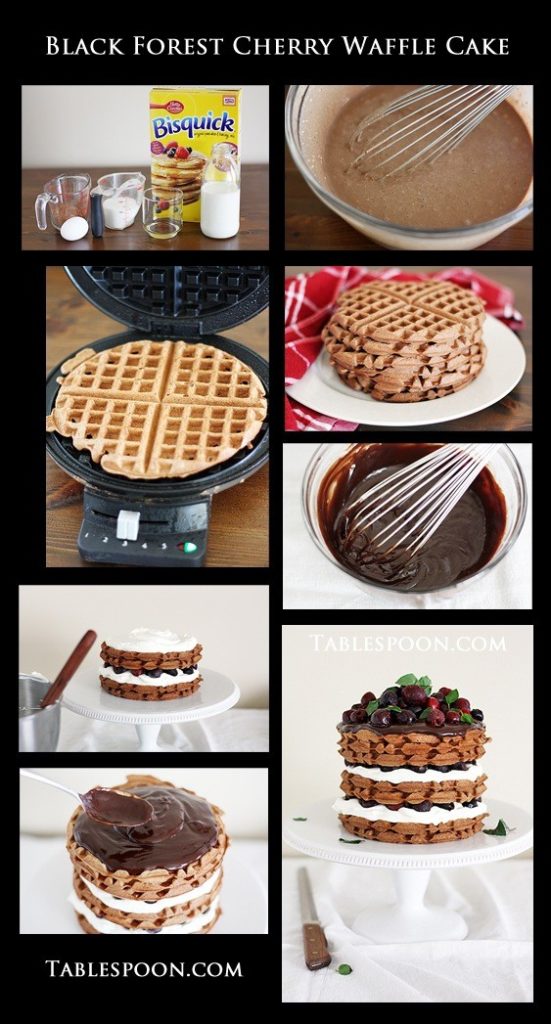 Black Forest Cherry Waffle Cake
Ingredients
FOR THE WAFFLES —
2 cups Bisquick baking mix
1 1/3 cups milk
1/2 cup granulated sugar
1/4 cup unsweetened cocoa powder
2 tablespoons vegetable oil
1 egg
1 bag (12 oz) frozen sweet cherries, thawed OR fresh cherries
fresh mint leaves, for garnish
FOR THE WHIPPED CREAM —
1 cup heavy cream
2 tablespoons granulated sugar
FOR THE GANACHE —
1/2 cup heavy cream
6 ounces semi-sweet chocolate chips
Directions
Heat waffle iron. In a large bowl, whisk together Bisquick, milk, sugar, cocoa powder, vegetable oil and egg just until smooth.
Lightly spray top and bottom grids of waffle iron with cooking spray. Carefully ladle 1/2 cup batter into the center of the iron; close and cook until done according to waffle iron or when the iron is no longer steaming. Carefully remove waffle from iron and set aside. Repeat with remaining batter. Let waffles cool completely.
In a large bowl or bowl of a stand mixer, whisk together heavy cream and sugar on high until stiff peaks form, about 5 minutes.
Stack two waffles on a serving plate. Top with half of the whipped cream, then a layer of cherries. Top with two more waffles. Top with remaining whipped cream and another layer of cherries. Top with remaining waffles.
In a small saucepan over medium heat, bring heavy cream to a boil. Pour over chocolate chips in a bowl and whisk vigorously until a smooth ganache forms. Cool slightly, then spoon over the top of the waffle cake. Top with remaining cherries and garnish with mint leaves.
Recipe and Photo credit:tablespoon / CC BY-NC-ND